Migrating your company email to Office 365 Exchange Online is an easy decision for your server-based mailboxes.   However, Outlook PST files can be a big problem.   If you have not restricted the use of Outlook PST files, then you may have a lot of them across your environment.     They may be stored on network drives, or on local desktop drives.    PST files may be storing important company data, that for compliance reasons, need to be retained.   PST migration, and elimination of PST files, can be a difficult task to complete to a high standard.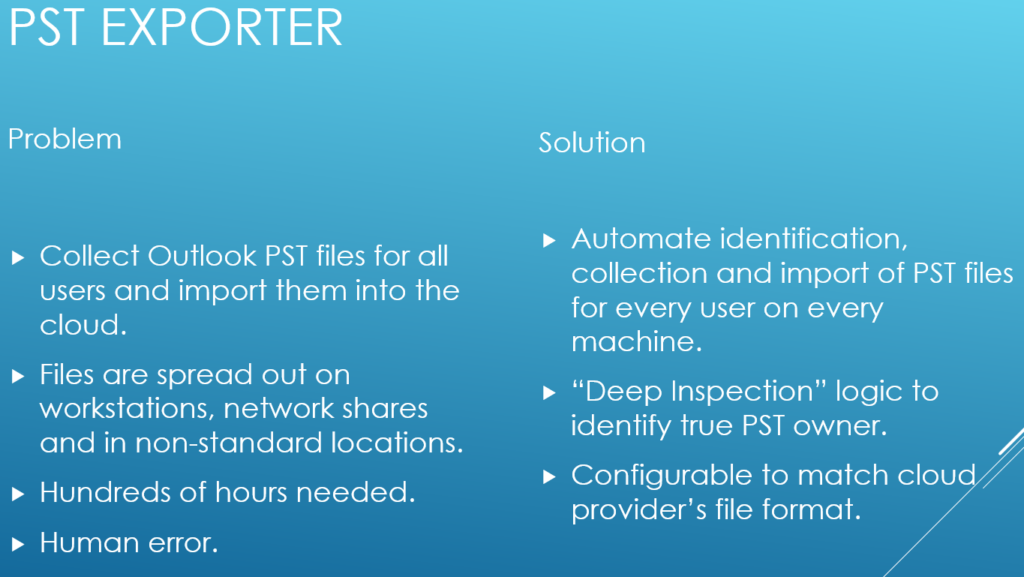 Compliance for PST files does not just mean storing the PST files.   It also means you require the ability to centrally search all email data – eg) for legal reasons.    If you have Outlook PST files scattered all over the place, then this is a major compliance headache.    Your Compliance Officer will also expect you to know who owns each PST file – this is always easy or obvious.
A PST migration to Office 365 could take a very long time if not done with the right partner, the right process, and the right tools.
Your company Compliance Officer will be very happy once you have removed all your PST files from your environment, and all email data is safely stored in Office 365.   Furthermore, you are recommended to stop the further use of Outlook PST files.    Office 365 provides a large amount of mailbox storage for a typical corporate licence – up to 100GB, for example.
PST files used to be widespread when Office 365 was not released – with Exchange Servers on site, and storage being expensive.    It was cheaper to quota user mailboxes, and force users to use Outlook PST files for additional room.    Times have now changed.    As a CIO, I would not expect to have any Outlook PST files in my business.
There is no longer a good reason why you should not have all your email data within Office 365.
PST File Ownership Problem
Migrating PST files to Office 365 is not easy.   You first need to find the files.   Then you need to work out who the owner is – this is the real tricky part!   Finally, you need to import the PST files to the correct Office 365 mailbox – preferably into the Archive mailbox for each user.   The whole process can take a very long time, especially if not done properly.
The official Microsoft definition for Outlook PST files is in this link.
PST Migration to Office 365 Experts
We can help you solve your PST file headache – use our PST migration services.    We have a specialist PST Migration Tool which can accurately scan your network and desktops, for all PST files.    It can then analyse each PST file contents to assign the most likely owner is.    Once you have verified the data, the PST files can be ingested into Office 365.   And everything is logged for compliance purposes.
Use our services to solve your PST problems.
We can advise you on the best PST migration strategy.
PST Migration Consulting
Contact Us today for a free consultation, and let us tell you how we have helped many businesses globally solve their PST problem!    Stop having a PST headache…